Isavasya Upanishad[01 To 15 November 2017] - Archived
---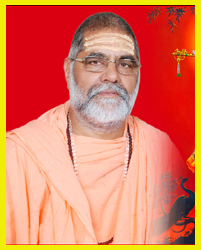 Here you can listen online briefly to the audio recordings of the daily Pravachan sessions. Or you may download the complete recordings in MP3 file format for offline hearing at your convenience.
Topic :


Isavasya Upanishad
[ 01 To 15 November 2017]


Speaker :

P.P.M.M. S. S. Jagdish Puriji Maharaj


About the Topic :
Ishopanishad belongs to the Shukla (white) branch of the Yajur Veda, of which only two branches (shākhās) are extant now. It contains just eighteen two-line verses, each of which is called a mantra. Within these it spans the entire spectrum of Hindu philosophy, religion, ritualism, mythology and metaphysics so precisely and succintly that it is cited most often. Mahatma Gandhi used to say, even if every other scripture of Hinduism vanished and this alone survived, Hinduism will survive. The name of the Upanishad derives from the first words of the Upanishad: Ishāvāsyam idam sarvam.
|| Hari Om Tat Sat ||
Links for brief hearing and full MP3 downloads :-
Day
( Date )
Hear online
Download


( right-click on download button and save target )

DAILY
UPLOADED
AT 12.30 PM IST

Day 14




(14/11/2017)

Day 13




(13/11/2017)

Day 12




(12/11/2017)

Day 11




(11/11/2017)

Day 10




(10/11/2017)

Day 09




(09/11/2017)

Day 08




(08/11/2017)

Day 07




(07/11/2017)

Day 06




(06/11/2017)

Day 05




(05/11/2017)

Day 04




(04/11/2017)

Day 03




(03/11/2017)

Day 02




(02/11/2017)

Day 01




(01/11/2017)
< previous pravachan series
next pravachan series >