Ongoing Pravachan Series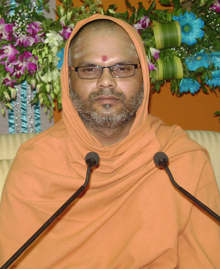 Here you can listen online briefly to the audio recordings of the daily Pravachan sessions. Or you may download the complete recordings in MP3 file format for offline hearing at your convenience.
Topic :


Kathopanishad
[ 11 To 30 September 2017]


Speaker :

P.P. Swami Shri Mohanchaitanyaji Maharaj


About the Topic :
In This Upanishad appears in the Katha branch of Black Yajurveda.
This is in the form of story which mainly narrates the dialogues of Nachiketa with Lord of death, Yama.
In short the story goes like this:
Once upon a time there was a person called Vajashrava. He performs the Yajna(Vishvajit Yajna) with the desire to obtain the fruit. He has a son called Nachiketa. Though a child, Nachiketa could observe that his father while donating the cows during the yajna, is offerring old cows whose milk has dried up and cannot produce the cattle. He was pained by his father's attitude and resolved to save his father by the self-sacrifice from the ill fruits of yajna which he may receive due to this .
Hence he goes to his father and asking that as he is donating everything available in the house, whom does he intends to donate his son i.e. Nachiketa himself? Nachiketa being still a child, initially father(Vajashrava) ignores him. But when he keeps pasterring and insists for the answer, with anger he tells his son that he is going to give him away to death.
Usually donation is to obtain the favours from the person whom it is given(because the yajna was performed to get the benificial fruit). Hence Nachiketa starts thinking as to what must be his father desirous to obtain from Lord of death? Though the father repents later while thinking of the consequences of his utterance, Nachiketa consoles his father and proceeds to meet the lord of death Yama....... .
|| Hari Om Tat Sat ||
Links for brief hearing and full MP3 downloads :-
Day
( Date )
Hear online
Download


( right-click on download button and save target )

DAILY
UPLOADED
AT 12.30 PM IST

Day 12
(22/09/2017)
Day 11
(21/09/2017)
Day 10
(20/09/2017)
Day 09
(19/09/2017)
Day 08
(18/09/2017)
Day 07
(17/09/2017)
Day 06
(16/09/2017)
Day 05
(15/09/2017)
Day 04
(14/09/2017)
Day 03
(13/09/2017)
Day 02
(12/09/2017)
Day 01
(11/09/2017)
< previous pravachan series