Ongoing Pravachan Series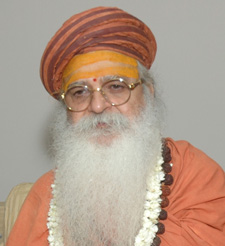 Here you can listen online briefly to the audio recordings of the daily Pravachan sessions. Or you may download the complete recordings in MP3 file format for offline hearing at your convenience.
Topic :


Nav Yogeshwar Samwad
[ 20 June To 03 July 2017]


Speaker :

Karshni Swami Shri Gurusharananandji Maharaj


About the Topic :
"Shrimad Bhagwat", the puranic scripture, is the great creation of the grand sage Ved Vyasa. The eleventh and penultimate part of this scripture goes by the name of "Mukti-Skandha". In the Mukti-Skandha, The second chapter is known by the name of "Nav Yogeshwar Samwad" or "The dialog of the Nine Master Yogis".
This chapter narrates on the story of Vasudev whose spiritual discrimination is deluded due to his deep worldly attachment to his son. To help Vasudev overcome this delusion, and focus his mental energies on spiritual progress, the divine sage Narad instructs Vasudev using a chatechismic (question and answer) dialog with the Nine Master Yogis as a via media.

Through the Nav Yogeshwar Samvaad (dialog) and with examples, sage Narad instructs Vasudev in the process of becoming free from delusion, attachment and pride and follow the path of detachment and renunciation even while existing in this world.

|| Hari Om Tat Sat ||
Links for brief hearing and full MP3 downloads :-
Day
( Date )
Hear online
Download


( right-click on download button and save target )

DAILY
UPLOADED
AT 12.30 PM IST

Day 06
(25/06/2017)
Day 05
(24/06/2017)
Day 04
(23/06/2017)
Day 03
(22/06/2017)
Day 02
(21/06/2017)
Day 01
(20/06/2017)
< previous pravachan series