Ongoing Pravachan Series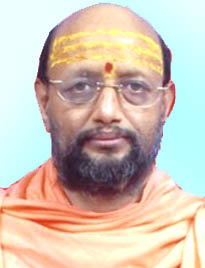 Here you can listen online briefly to the audio recordings of the daily Pravachan sessions. Or you may download the complete recordings in MP3 file format for offline hearing at your convenience.
Topic :


Aparokshanubhuti

[ 01 To 20 February 2017]


Speaker :

PP.P. M.M.Swami Shri Mohananandgiriji Maharaj


About the Topic :
The Aparokshanubhuti is the term used by Shri Shankaracharya for the state of Self realization.
This is one of the most important works of Shankaracharya on Advaita philosophy
Aparoksha means not seeing through anybody elses eyes. Seeing with our own eyes. Anubhuti is the experience."Who am I? How is this (world) created? Who is its creator? Of what material is this (world) made? This is the way of that Vichara (inquiry)."We donot have first hand knowledge of our self at all. We know our self as personality. This personality is given by the society. This is a second hand knowledge.
Study of scriptures tells that we are the Self. Even this knowledge is second hand.
First hand knowledge is when we realize the truth ourselves. We have always the experience of self as I exist. We donot have any doubt about that. This is also not based on sensory inputs. A pure experience of "I" consciousness without all borrowed mental images is called Aparokshanubhuti.
|| Hari Om Tat Sat ||
Links for brief hearing and full MP3 downloads :-
Day
( Date )
Hear online
Download


( right-click on download button and save target )

DAILY
UPLOADED
AT 12.30 PM IST

Day 18
(18/02/2017)
Day 17
(17/02/2017)
Day 16
(16/02/2017)
Day 15
(15/02/2017)
Day 14
(14/02/2017)
Day 13
(13/02/2017)
Day 12
(12/02/2017)
Day 11
(11/02/2017)
Day 10
(10/02/2017)
Day 09
(09/02/2017)
Day 08
(08/02/2017)

Day 07
(07/02/2017)

Celebrated As SanyasJayanti

Day 06
(06/02/2017)
Day 05
(05/02/2017)
Day 04
(04/02/2017)
Day 03
(03/02/2017)
Day 02
(02/02/2017)
Day 01
(01/02/2017)
< previous pravachan series