Ongoing Pravachan Series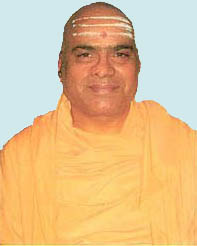 Here you can listen online briefly to the audio recordings of the daily Pravachan sessions. Or you may download the complete recordings in MP3 file format for offline hearing at your convenience.
Topic :
Panchadasi (Chapter-1 Tatva Vivek)



[01 to 30 June 2015]

Speaker :

P.P. M.M. Swami Shri Atmanandgiriji Maharaj (Nepal)

About the Topic :
Panchadasi, written in the Sloka format, is a book of instruction for the followers of Vedanta who want to have a clear presentation of the truths of Advaita. It is an advanced introductory text intended either to unfold the entire subject of Vedanta necessary for attaining enlightenment or to serve as a foundation for further study of Vedanta. It is a standard text on the philosophy of the Advait Vedant. The author of this text, Vidyaranya Muni, also known as Bharatitiratha, is one of the most popular post-Shankara Advaitic thinker associated with the "Vivarana school", he presents very precise definitions of most important terms of Advaita.

This text, "consisting of 15 Chapters is grouped into three quintads: - a) viveka-panchaka (dealing with the discrimination of the real from the non-real), b) dipa-panchaka (expounding the nature of the Self as pure consciousness), and c) ananda-panchaka (dwelling on the bliss-nature of Brahman), very much like the three aspects of Brahman – sat (existence), cit (consciousness) and ananda (bliss), respectively. Vidyaranya has succeeded in an eminent way in setting forth the essentials of Advaita which holds that the direct means to liberation (moksha) is the path of knowledge (jnana), and as moksa is the very nature of the Self, it is not an experience which is to be brought about through works (karma).

Vidyaranya Swami who was the spiritual head of Sringeri Math in 1377 A.D to 1386 A.D., and also wrote Drk-Drsya-Viveka, Sarvadarsana Samgraha, Sri Sankara Digvijaya, Jivanmukti Viveka, Anubhuti Prakasa, Vivaranaprameyasamgraha and Upanishad Dipika has been identified with Sayanacharya, the commentator on the Vedas, whose brother he most likely was.
Please visit the following links for reading and downloading the text with Hindi translation :-
https://archive.org/stream/Panchadasi.by.Vidyaranya.Swami.Hindi/Panchadasi.by.Vidyaranya.Swami#page/n0/mode/2up
https://archive.org/download/Panchadasi.by.Vidyaranya.Swami.Hindi/Panchadasi.by.Vidyaranya.Swami.pdf

|| Hari Om Tat Sat ||

Links for brief hearing and full MP3 downloads :-
Day
( Date )
Hear online
Download

(30/06/2015)

DAILY
UPLOADED
AT 12.30 PM IST

Day 29
(29/06/2015)
Day 28
(28/06/2015)
Day 27
(27/06/2015)
Day 26
(26/06/2015)
Day 25
(25/06/2015)
Day 24
(24/06/2015)
Day 23
(23/06/2015)
Day 22
(22/06/2015)
Day 21
(21/06/2015)
Day 20
(20/06/2015)
Day 19
(19/06/2015)
Day 18
(18/06/2015)
Day 17
(17/06/2015)
Day 16
(16/06/2015)
Day 15
(15/06/2015)
Day 14
(14/06/2015)
Day 13
(13/06/2015)
Day 12
(12/06/2015)
Day 11
(11/06/2015)
Day 10
(10/06/2015)
Day 09
(09/06/2015)
Day 08
(08/06/2015)
Day 07
(07/06/2015)
Day 06
(06/06/2015)
Day 05
(05/06/2015)
Day 04
(04/06/2015)
Day 03
(03/06/2015)
Day 02
(02/06/2015)
Day 01
(01/06/2015)
< previous pravachan series